In the years following his conversion experience in 1886, the saintliness of Charles de Foucauld (1858-1916) was recognized by people who knew him–his fellow Trappists monks, the Poor Clare nuns in Nazareth, the French soldiers garrisoned in the Sahara, and the Tuareg nomads. His abbot at Notre-Dame-des-Neiges, for example, wrote of Charles: "Never in my life have I seen a man who comes so close to the ideal of holiness. Never have I seen outside of books such marvels of penance, humility, poverty, and love of God."
The publication of a biography by René Bazin in 1921 introduced Charles to many more people. Just a few years later, in 1927, his cause for canonization was first opened.
The process of canonization is often a long and complicated process involving several steps. Now, more than 100 years after his death, the process for declaring Charles a saint has been completed. All that awaits is the official date of canonization. Any forthcoming information will be posted here.
Read about the miracle attributed to Charles that led to his canonization: Miracles Happen.
---
Beatification of Charles de Foucauld
On November 13, 2005, Charles was beatified, a step along the way toward sainthood, at the Basilica of St. Peter in Rome. This bestowed upon him the title of "Blessed."
Here is an excerpt from Pope Benedict XVI's address at the Beatification Mass:
"Let us give thanks for the witness borne by Charles de Foucauld. In his contemplative and hidden life in Nazareth, he discovered the truth about the humanity of Jesus and invites us to contemplate the mystery of the Incarnation; in this place he learned much about the Lord, whom he wanted to follow with humility and poverty.
"He discovered that Jesus, who came to join us in our humanity, invites us to universal brotherhood, which he subsequently lived in the Sahara, and to love, of which Christ gave us the example. As a priest, he placed the Eucharist and the Gospel at the heart of his life, the two tables of the Word and of the Bread, source of Christian life and mission."
The beatification of Charles was official recognition of his life of heroic virtue. He was publicly declared to be a guide for men and women on their journey to God.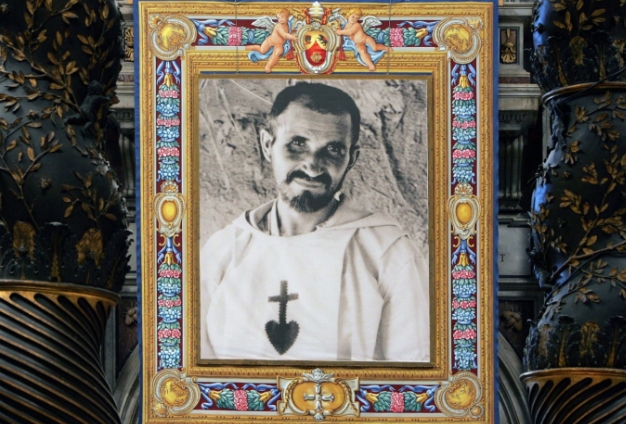 Return to Br. Charles Main Page.