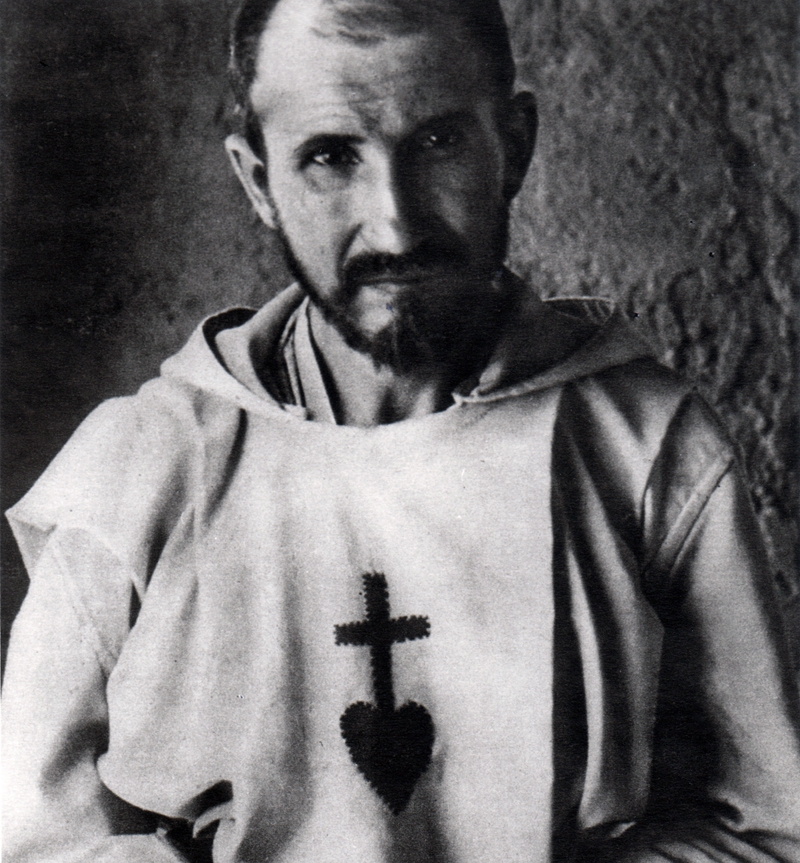 The life of this French priest who lived in the Sahara is an inspiration for our work. He is the source of our motto, "Cry the Gospel with your life."
Charles de Foucauld was born in Strasbourg, France on September 15, 1858. He was orphaned as a child and raised by his maternal grandfather. The recipient of a large inheritance, Charles lived a worldly life that resulted in the gradual loss of his faith.
Charles served in the French Army and was stationed for a time in Algeria. This was the beginning of his fascination with North Africa. After serving in the army, he traveled throughout Morocco. A book he wrote on his explorations earned Charles a gold medal from the Geography Society of Paris.
His contact with devout Muslims in Morocco stirred Charles' heart:
"Islam really shook me to the core. The sight of such faith, of these people living in the continual presence of God, made me glimpse something greater, truer than worldly concerns. I started studying Islam, and then the Bible."
Back in Paris, Charles felt a growing need to renew his own religious commitments. In late October 1886, Charles spoke with Father Huvelin at St. Augustine's Church. After confessing his sins and receiving holy communion, Charles experienced a new horizon opening in his life:
"As soon as I believed there was a God, I understood that I could not do anything other than live for Him. My religious vocation dates from the same moment as my faith. How great God is! There is such a difference between God and everything that is not Him!"
Fr. Huvelin encouraged Charles to make a pilgrimage to the Holy Land. His faith strengthened by the journey, Charles became inspired to imitate the "hidden life" of Jesus of Nazareth.
"Everybody knows that the first effect of love is imitation….I didn't feel I was made for preaching like Jesus in his public life, so I needed to imitate him in his hidden life as a poor and humble workman at Nazareth."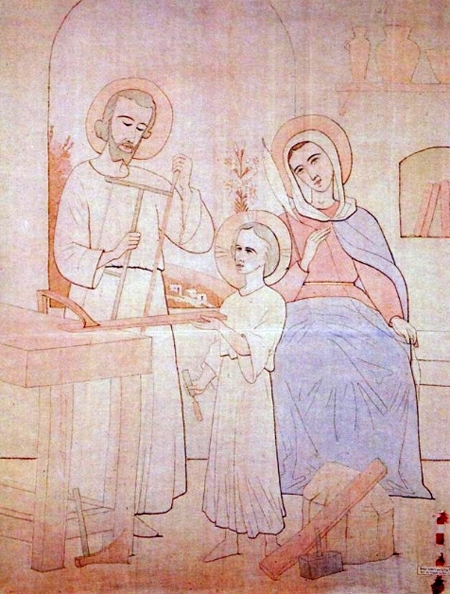 Searching for a way to live this life, Charles entered a Trappist monastery. Realizing that his vocation was leading him elsewhere, he lived for a while as a gardener and handyman for a convent of Poor Clare nuns in the Holy Land. The mother superior helped Charles discern a vocation to the priesthood.
Life in the Desert
In 1901, Charles was ordained a priest of the Diocese of Viviers in France. By then, his understanding of his vocation had developed: he did not need to live in the Holy Land to imitate the hidden life of Jesus.
"I think we can live the life of Nazareth anywhere, sink ourselves into hiddenness, live in obedience, and embrace the Cross."
Charles decided to return to the Sahara and received permission to establish a hermitage in Beni-Abbes in Algeria. He later built a second hermitage far to the south in Tamanrasset, a tiny settlement in a remote region of volcanic mountains called the Hoggar.
"It is necessary to enter the desert and remain there a while in order to receive the grace of God. It is in the desert that we empty ourselves, that we chase away all that is not God, that we completely empty out the little house of our souls so that God alone may fill it. . . . It is indispensable. . . . It is a time of grace."
Out in the desert, Charles led an austere life, marked by prayer and an unassuming ministry of friendship to the nomadic tribes of Bedouin Muslims known as the Tuaregs. To them, he became known as a "Marabout," a holy man.
"I want to accustom all the inhabitants, Christians, Muslims, Jews, and nonbelievers, to look upon me as their brother, the universal brother. Already they're calling this house 'the fraternity' — about which I'm delighted — and realizing that the poor have a brother here — not only the poor, though; all men."
Charles welcomed all who came to his outpost: the indigenous people, French soldiers, and anyone else traveling across the forbidding landscape of the deep Sahara. He offered whatever charitable assistance his means allowed. His motivation was simply to imitate the generous love of Jesus.
"Our entire existence and being should shout the Gospel from the rooftops. Our entire person should breathe Jesus. All our actions and our entire life should proclaim that we belong to Jesus."
Charles also voiced his protest against slavery and other acts of injustice inflicted upon the poor of the desert.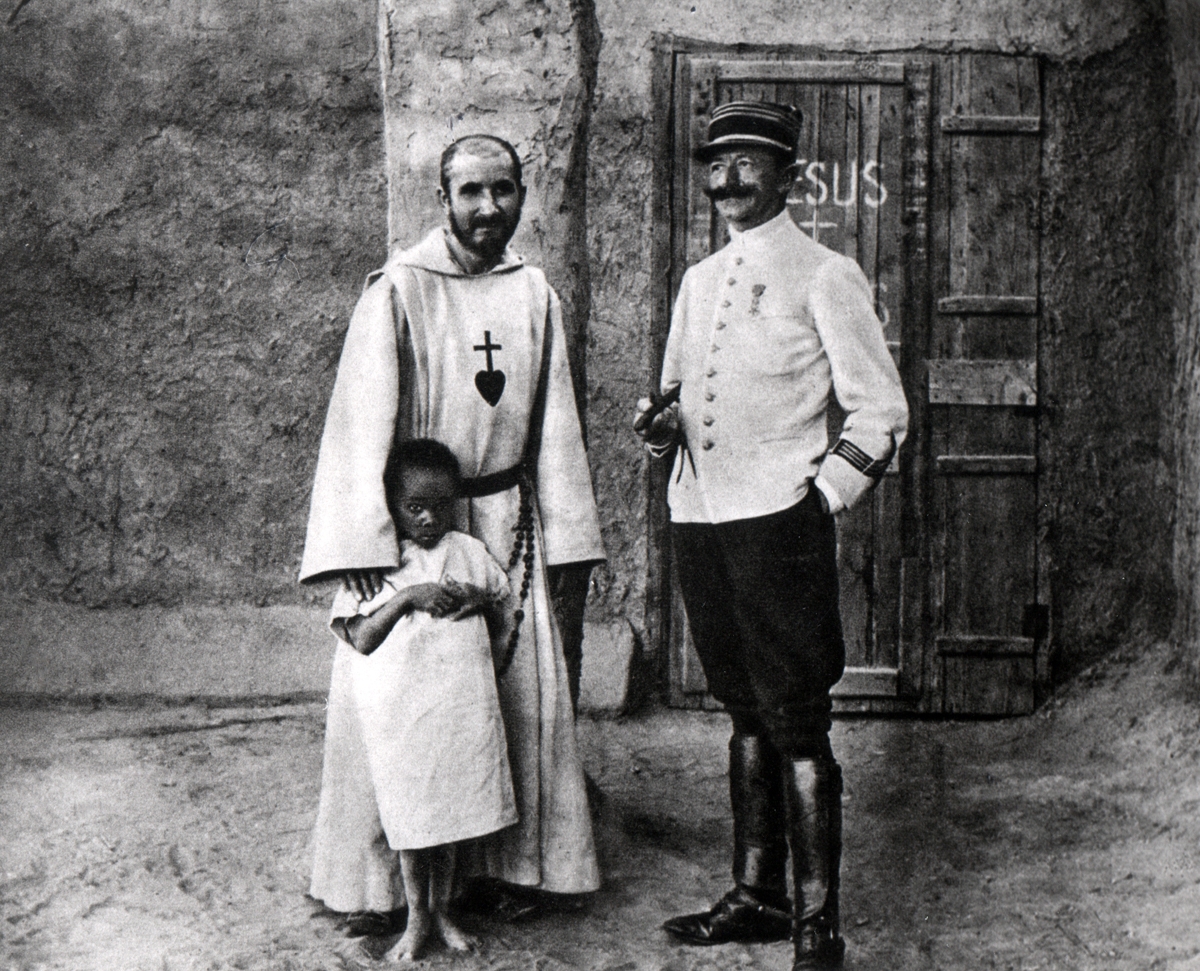 He hoped to start a new religious community based on the life of Nazareth. Charles wrote a rule for the "Little Brothers of the Sacred Heart of Jesus," and designed a "Heart and Cross" insignia to be worn on the front of a religious habit.
"The emblem of Jesus' Heart reminds you that you must give God the same love He gives you . . . and that you must love your neighbor as yourself . . . because God loves him as He loves you."
No followers joined Charles during his lifetime. His life would have a much greater impact in years to come, inspiring religious orders and secular fraternities around the world.
On December 1, 1916, Charles was shot and killed by a young member of a rebel Tuareg tribe. In a notebook he carried with him, Charles had written: "Live as though you were going to have to die as a martyr today."
Beatification of Charles de Foucauld
On November 13, 2005, Charles was beatified at the Basilica of St. Peter in Rome. He is now honored with the title of "Blessed."
Here is an excerpt from Pope Benedict XVI's address at the Beatification Mass:
"Let us give thanks for the witness borne by Charles de Foucauld. In his contemplative and hidden life in Nazareth, he discovered the truth about the humanity of Jesus and invites us to contemplate the mystery of the Incarnation; in this place he learned much about the Lord, whom he wanted to follow with humility and poverty.

"He discovered that Jesus, who came to join us in our humanity, invites us to universal brotherhood, which he subsequently lived in the Sahara, and to love, of which Christ gave us the example. As a priest, he placed the Eucharist and the Gospel at the heart of his life, the two tables of the Word and of the Bread, source of Christian life and mission."
The beatification of Charles, a step along the way toward sainthood, is official recognition of his life of heroic virtue. He is a guide for men and women on their journey to God.
In this changing world, where new "deserts" are being created in urban and industrialized areas, we can receive the silent witness of Charles as a beautiful gift, a source of hope and inspiration for all of us.
UPDATE: In May of 2020 the Vatican announced that Br. Charles will be canonized a saint! The date is not yet known.
---
Watch a video presentation on the life of Br.Charles on our YouTube Channel: https://www.youtube.com/watch?v=fbPFYIuuxq8
---
Abandonment Prayer
Charles de Foucauld composed this prayer as he meditated on the death of Jesus on the Cross:
"This was the last prayer of our Master, our Beloved. May it also be ours. And may it be not only that of our last moment, but also of our every moment:

"Father,
I abandon myself into your hands; do with me what you will. Whatever you may do, I thank you: I am ready for all, I accept all. Let only your will be done in me, and in all your creatures — I wish no more than this, O Lord.

"Into your hands I commend my soul; I offer it to you with all the love of my heart, for I love you Lord, and so need to give myself, to surrender myself into your hands, without reserve, and with boundless confidence, for you are my Father."
This prayer by Brother Charles encapsulates his spirituality. We, the Little Sisters of Jesus and Mary, recite this prayer every morning at the beginning of our day.
We recommend this prayer to everyone who desires to love God with greater intimacy and trust. To abandon ourselves to God's will is the only sure road to peace of mind.
---
A New Community
The Companions of Jesus of Nazareth is a virtually-connected community open to everyone who aspires to follow Christ in the footsteps of Br. Charles.
Learn more at https://www.companionsofjesusofnazareth.com