By definition, a desert is an empty, arid wasteland. Some would say there is nothing to see. But the desert also brings clarity of vision, and with this clarity Charles de Foucauld saw deep into the mystery of Jesus.
In her book, Hidden in God: Discovering the Desert Vision of Charles de Foucauld, Bonnie Thurston describes the contours of this vision in way that will be meaningful to the spiritual journey of a wide variety of readers.
This vision has a geography: the heart of the book is a discussion of the three locations Foucauld understood to be central in the life of Jesus, namely, Nazareth, the desert, and public ministry. Thurston shows how these locations can serve as metaphors for aspects of the spiritual life. Indicative of spiritual realities, each location has its own graces and dangers, which Thurston illustrates with examples from the Bible and the life of Foucauld.
Thurston then helps the reader see how these locations can be a source of personal insight since they are places everyone will experience in one form or another. The modern seeker may never travel through an actual desert, for example, but may be intimately familiar with the harsh terrain of an internal desert existence. Using the journey and writings of Foucauld, Thurston guides the reader in connecting the concrete realities of life to the imitation of Christ.
The final chapter of the book is a consideration of the cross. As Foucauld knew, that is where everyone who follows Jesus will be led. No matter where we are, everyone has a cross to take up.

Thurston has lived with the mystery of Foucauld's life for a long time. It has been so long she admits she can't remember her first introduction to him.
Charles de Foucauld (1858-1916) is considered to be an influential person in Church history, yet likely unknown to many people today. Thurston covers his life story to give context for his spiritual development. In some ways, it is a common story: Foucauld lost his faith as a young man, but after finding inspiration in an unexpected place he began a process of conversion that drew him to God. What is uncommon about his story is how his conversion was truly the beginning of a new way of life, both inside and out. Born into a life of privileged French nobility, Foucauld ended his earthly journey deep in the Sahara Desert, a poor hermit totally abandoned to the Will of God, his heart open to everyone as a "universal brother."
As Thurston notes in the Introduction, her book can be used as a self-directed retreat, if one so chooses. Each chapter closes with questions to ponder and Scripture passages for further reflection. The book lends itself to meditative reading. The reader will probably want to pause and reflect even before reaching the end-of-chapter questions.
Foucauld remained a man of his time, and yet he also transcended his time in a way that was prophetic. He is "one of those seekers who periodically manage to reinvent the imitation of Christ" (Ellsberg). Hidden in God is a map for exploring how Foucauld speaks to us today. His life seems far removed from ours, but Thurston reveals how he is relevant and can teach us.
On May 27, 2020, the Vatican advanced the cause of Charles de Foucauld for canonization. He will be an official saint and hopefully become more widely known. For anyone looking for an introduction to Focauld, Thurston provides an excellent starting point. Even those who are familiar with Foucauld will find valuable insights into what moved the soul of this saintly man.
This book is also a helpful resource for the reader's further study of Foucauld. Thurston includes ample endnotes and a list of additional books that may be of interest.
Foucauld never fulfilled his dream of starting a new religious community based on the life of Nazareth. His life planted a seed, however, and like the grain of wheat that must die to bear fruit (John 12:24), he has inspired the formation of communities and fraternities around the world in the years following his death. Our founder, Sr. Mary Elizabeth Gintling, was greatly influenced by Foucauld, and his spirituality runs deep through our life and the ministry of the Joseph House. We are happy to recommend Bonnie Thurston's book about our beloved Brother Charles.
Endorsements:
"The is spiritual reading at its best." – Lawrence S. Cunningham, University of Notre Dame
"Thurston offers fresh and honest insights into the spirituality of Blessed Charles…even for a longtime member of the spiritual family of Charles de Foucauld." – Rev. Jerry Ragan, National Responsible of the Jesus Caritas Fraternity of Priests
"I felt as if I was on a retreat with Blessed Charles as I journeyed with him through Jesus' hidden years, desert life, and public ministry." – Dana Greene, author of Denise Levertov: A Poet's Life
Publishing Details:
Hidden in God: Discovering the Desert Vision of Charles de Foucauld
Ave Maria Press (2016), 141 pages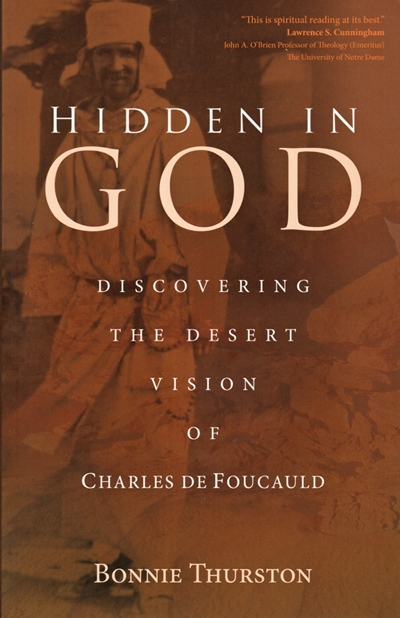 Bonnie Thurston is an ordained minister, New Testament scholar, author, poet, and teacher. She is a founding member and past president of the International Thomas Merton Society.
Works Cited:
Robert Ellsberg, "Who was Charles de Foucauld?" America: The Jesuit Review, 14 November 2005.
Available online, this article is a concise and informative overview of Foucauld's life: https://www.americamagazine.org/faith/2005/11/14/who-was-charles-de-foucauld
---
For many years (1977-2011), we operated Joseph House by the Sea, a book and gift store in Ocean City, Maryland. Our founder, Sr. Mary Elizabeth Gintling, believed it was important "to have a place in the marketplace where people can come to get spiritual direction and guidance in their reading." In that spirit, we continue offer recommendations for worthwhile items.