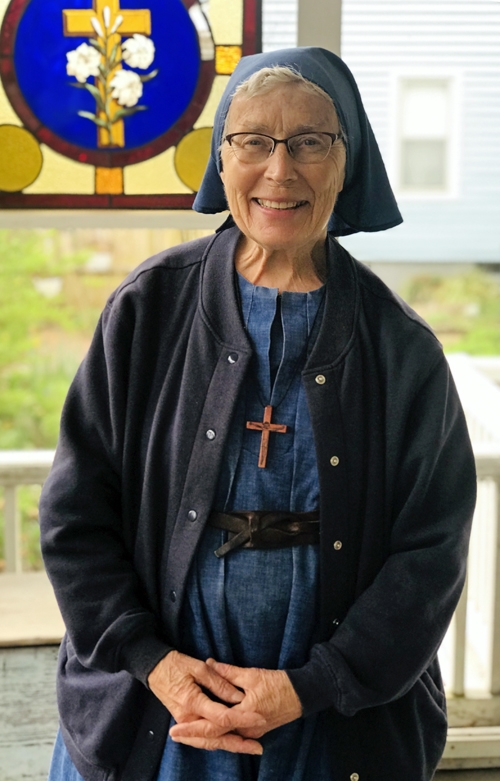 Sr. Marilyn Bouchard
Hometown: Green Bay, Wisconsin
Current placement and ministry: Currently, I am the Community Superior. I am also involved with the Village of Hope (transitional housing for women and children). I serve on the Board and help with various committees.
What did you do before joining the Little Sisters? Before entering, just previously, I worked at a nursing home (St. Francis in Fond du Lac, Wisconsin), taught third grade, and did mission work in Kentucky.
What attracted you to the Little Sisters? The Catholic Extension Society magazine article about our foundress Sr. Mary Elizabeth initially called me. First visit I was smitten . . . humility, humanity, hospitality, humor and love of the Lord in the poor.
Love of Jesus in the Eucharist helped to draw me in; I wanted my life to belong to God in gratitude for His goodness and love.
I believe there are seven traits needed when considering a vocation to religious life:
1.) Healthy
2.) Happy
3.) Honest
4.) Humble
5.) Holy (aspire to be)
6.) Humor (sense of)
7.) Hospitality (to others and to the poor).
What are the most rewarding aspects of religious life? Serving the Lord along with others who have the same spirit, all grounded in the living out of our faith and charism.
What are the more challenging aspects of religious life? Sometimes finding the time to accomplish all that one is called to do and want to do for the Lord and others.
What's a special memory you have of living in community? Being blessed to live with and learn from our Foundress her spirituality and our way of living her charism.
What's a special memory you have of ministering to others? Seeing the joy of success in someone's seeing God's love for them, overcoming a great obstacle or recognizing their own self value and abilities.
Is there a passage from Scripture that is especially meaningful to you? So many, but one that recurs over and over, "… You did it for Me." I also find deeply moving the Beatitudes and the Sermon on the Mount. Sr. Mary Elizabeth often spoke of the time when we stand before the Lord in Judgment. She always told us that " these would be our final exam, and Jesus had already given us all the answers."
What spiritual practices and devotions are important to you? Daily Mass and Eucharist, the rosary, and personal time of prayer and meditation. I also treasure the Divine Mercy devotion.
What are your hobbies and special interests? What do you do for fun? I enjoy reading, a fun outing with sisters and friends, home visits with family, cutting the lawn (esp. riding mower), catching a live Packers game when broadcast in our area, toy shopping for our Christmas giveaway. And the yet-to-be-accomplished learning of a new language (esp. French), playing the piano (former lessons—too former), and maybe even taking up an art form!