Our vocation to religious life is a personal invitation of grace to follow Christ according to the vows of poverty, chastity, and obedience. To respond to this grace with integrity and fidelity we rely on God's faithful love and the assistance of our community.
Our response to this call is realized in a lifelong process of transformation in Christ.
Vocation Inquiries
It is a joy to receive new members who desire to share our way of life as Little Sisters of Jesus and Mary. It is also a responsibility to help them understand the meaning of their vocation.
Women who are interested in our community need to be at least 21 years of age, single, have good health, and be practicing Roman Catholics. The upper age limit is 50, although exceptions can be made. Women who are divorced or widowed cannot have dependent children. Divorced women require an annulment in order to profess vows with our community.
Please contact Sr. Marilyn Bouchard for more information on our way of life:
Sr. Marilyn Bouchard
P.O. Box 1755
Salisbury, MD 21802
410-543-1645
LSJM[at]comcast[dot]net
---
The Stages of Religious Formation in our Community
First Formation:
Aspirant
During this initial 30-day visit, interested women live, pray and work with the Sisters in community to become acquainted with our way of life. If the possibility of a vocation with our community is discerned, the aspirant is invited to return and become a postulant.
Postulancy
Postulancy is the time of preparation for entry into the novitiate. During this time the postulant strives to ascertain her aptitude for religious life and her vocation to our community.
Prayer, instruction, and study help the postulant grow in her knowledge of the truths of faith and acquire a deeper understanding of Christ and His mission. During this time of gradual transition to religious life the postulant becomes more familiar with the manner of life and apostolate of our community. The community also comes to know the postulant and her suitability for life among us.
Postulants begin wearing a simple uniform of a blue jumper, white blouse, and light blue veil. They typically live with other women in first formation in our residence in Princess Anne, Maryland. The postulancy lasts for at least 9 months. When the postulant has the maturity necessary to respond to this call with freedom and responsibility, she may be admitted to the novitiate.
Novitiate
The novitiate lasts two years. In the novitiate, the novice begins to live the religious life and prepares herself for temporary vows. During this time special attention is given to her spiritual and ascetical formation. Under the guidance of the novice directress, the novice learns to be alert and generous in responding to the movement of the Holy Spirit in her life.
In her experience of the novitiate, the novice grows into the spirit of our community and comes to know our traditions. She learns how to live according to the evangelical counsels (i.e., the vows), and our Constitutions. This helps to deepen her understanding of her call to religious life.
The novice also engages in our apostolate so that she may realistically experience the demands which will be made upon her upon entrance into an apostolic community. Thus, through alternating periods of contemplation and action, the novice gains experience in integrating the two movements in her life: her response to God in prayer and her response to people in service.
At the end of the novitiate, the novice publicly commits herself to God through temporary vows. She receives the habit of our community.
Continuing Formation:
The period of temporary profession lasts from three to six years, the vows being renewed each year. During the juniorate, the sister participates in the life and apostolate of our community. She continues the formation begun in novitiate through an ongoing program of spiritual, personal, theological and professional development.
In her final profession, the sister publicly expresses her total dedication to Christ in the formula of vows as it is indicated in our Constitutions. God seals her covenant-response by a special consecration.
Throughout our life we have a responsibility to further our own continual renewal so that we may grow in our commitment to Christ and live authentically our vocation in the Church. We use available opportunities for our spiritual, theological, professional, and cultural enrichment for which the community makes provision from time to time.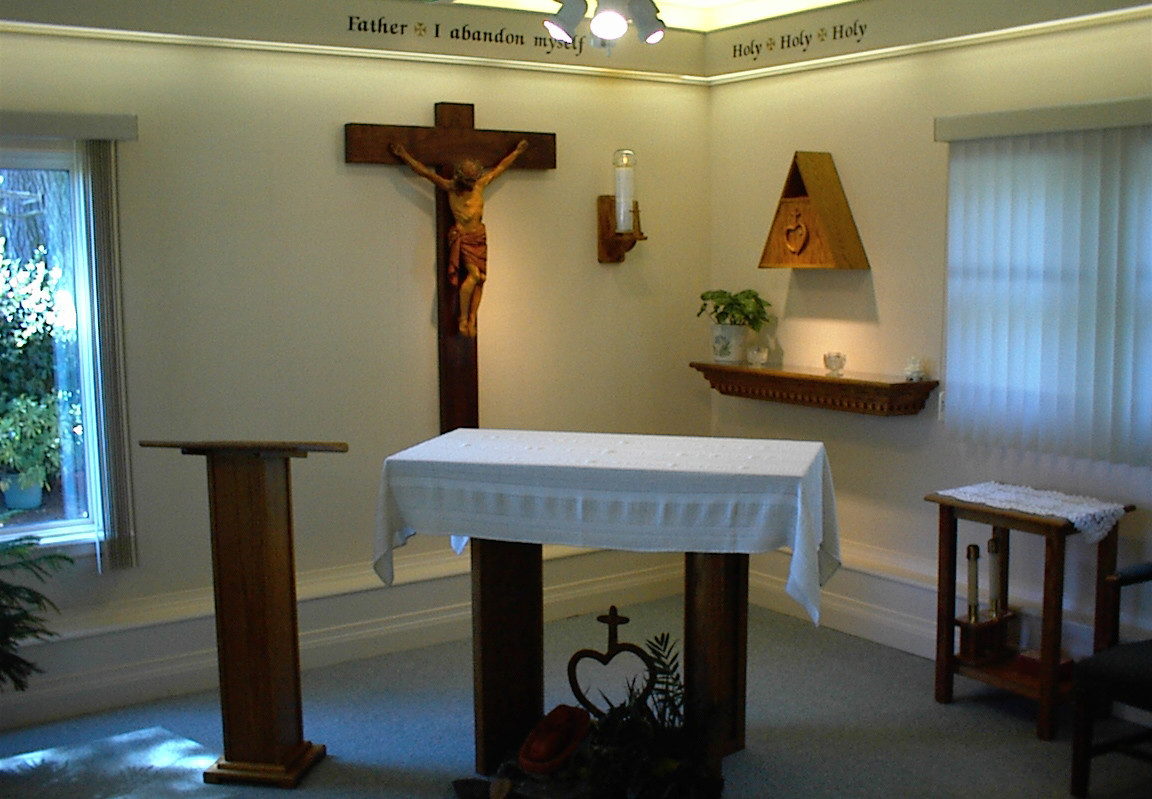 If we continue to seek God above all things, we shall also find Him everywhere. His Spirit of truth and goodness, of peace and joy, will grow in us until we are transformed into the very image of Christ.