A week before Christmas in 1964, Sr. Mary Elizabeth Gintling made a pilgrimage to St. Joseph's Oratory in Montreal, a shrine dedicated to the man whom God chose to be head of the Holy Family.
At the Oratory, Sister placed her intentions to begin a new ministry to the poor under the patronage of St. Joseph. She knew that if God trusted St. Joseph to care for Mary and Jesus, then she could trust him as well. Sister promised to honor St. Joseph by naming all of her endeavors after him.
True to her word, she opened the first Joseph House the following October in the rectory basement of Immaculate Conception Church in Baltimore. Since then, St. Joseph has remained the patron of all Joseph House ministries.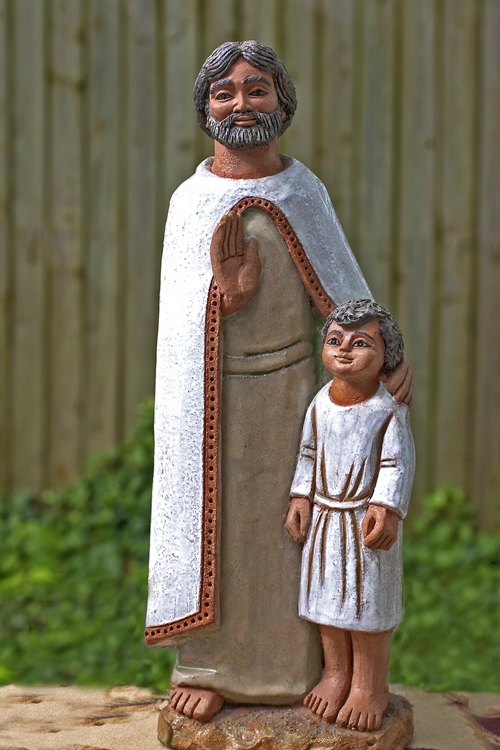 The Gospel Portrait
St. Joseph is our special friend in heaven, and he is also our role model of how ordinary, everyday life can be holy. He is the "just man" as described in the Psalms with evocative imagery: a tree planted by flowing waters that yields its fruit in due season (Psalm 1), a light in the darkness for the upright (Psalm 112).
The Gospel portrait of Joseph reveals a man of action and faith. Supremely obedient to the Will of God, Joseph never hesitated to do what love required. He brought Mary safely to Bethlehem, and along with her witnessed the birth of the Incarnate Word.
When King Herod threatened the life of Jesus, Joseph protected the precious Infant and eventually established a home for the Holy Family in Nazareth. Through his labor, Joseph put bread on the table for the One who would later proclaim, "I am the Bread of Life."
As "Guardian of the Redeemer," Joseph played an essential role in God's plan of salvation. Joseph was the strong, fatherly presence in the life of the young Jesus. During His public ministry, Jesus undoubtedly remembered Joseph when He spoke of God as a loving Father.
In addition to being the patron of the Universal Church, Joseph is the patron of husbands, fathers, and workers. His intercession is also called upon for the grace of a peaceful death, since it is believed that he died in the company of Jesus and Mary.
"Saint Joseph is presented to us as an incomparable witness of that contemplative silence, full of listening to the Word of God, which emanates from the Gospels as the characteristic atmosphere of the House of Nazareth. Joseph's silence was an active silence, which accompanied his daily work at the service of the Holy Family.

"Following Saint Joseph's example, may all believers achieve in their own life a deep harmony between prayer and work, between meditation on the Word of God and their daily occupations. May an intimate and vital relationship with Jesus, the Incarnate Word, and with His holy Mother, always be at the heart of everything."

– St. John Paul II