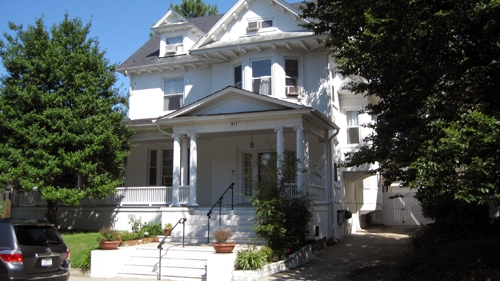 Our convent in Salisbury, Maryland is in a neighborhood called Newtown. It's named this because many of the houses were built in the aftermath of two devastating fires that swept through the community, one in 1860 and the other in 1886. We've seen photographs of our street after one of the infernos: only the chimneys and blackened tree trunks were left standing. Today, mature leafy trees and vibrant flower gardens frame the Victorian homes. Nature and time have erased the wounds.
We like the historical character of our neighborhood. Up the street from us is the Poplar Hill Mansion; completed in 1805, it is the oldest home in Salisbury. Down the street is the Chipman Cultural Center, the oldest African-American church building on the Delmarva Peninsula. Historians believe that before the church was built in 1838, local slaves congregated on that patch of land for Sunday morning worship services. We can only imagine the cries to Heaven that once filled the air. They were only a few blocks away from the mansion, but separated by a great divide.
The house we call our convent also holds some history. We once discovered, behind our basement wall, receipts from a hardware store going back to 1891. Other traces of past ownership were clear from the beginning. When Sr. Mary Elizabeth purchased the property in 1978, the previous residents had been a group of young people. They left behind walls painted black adorned with rock and roll posters! But nothing, least of all that, could ever faze Sister. The house was big enough for the community of sisters she envisioned and that was the most important consideration.
All in all, what we like best about our neighborhood are the people who live there. Our friendships with some of our neighbors can now be measured in decades. It's like living on the same street with members of our extended family. There are bonds of trust and support that keep us going, which in turn help to keep the Joseph House going. The variety of people living in Newtown makes it a real patchwork quilt, and we feel very blessed to hold down our square on the corner of North Poplar Hill Avenue and Isabella Street.
Nevertheless, the sad fact remains: a city of neighborhoods is often a city of barriers. The situation is true no matter where in the country one may live, or what country one may live in. There's always a part of town that is on the "wrong side of the tracks," places that aren't safe after dark, or where the people are different or have different ways. Unwritten laws inform people not to mix. Some localities may just as well have walls built around them. In fact, some of them do.
Whether real or imaginary, these walls can do more than separate people. They're also good at hiding things, especially things we don't want to see, such as poverty and injustice. And the invisible walls are just as effective at doing this as any other.
Our local paper once published a front page story, complete with a map, that highlighted the section of Salisbury burdened with high levels of prostitution, drug dealing, and gun violence. Only the busy commercial strip of Route 13 divides that neighborhood from ours.
Fault lines like this are common throughout America. Our faith tells us to cross them, not avoid them.
In the parable of the rich man and Lazarus from the gospel of Luke, the rich man lives contentedly behind a gate, unaware that poor Lazarus is starving on the other side. The rich man never deliberately harms Lazarus, he simply ignores him. He lives his life as if Lazarus did not exist. He could have shared something with Lazarus and never even missed it.
What would have happened if the rich man had stepped outside his gate and opened his eyes? A little kindness on his part would have meant everything to Lazarus.
Borders, boundaries, walls, fences, gates… they have their place. But they limit our horizon and it is easy to get used to the view.
One must be especially careful about building them around the human heart. What was built out of fear, anger, hurt, or ignorance can have unintended consequences. C.S. Lewis wrote these memorable lines in his book, The Four Loves:
If you want to make sure of keeping [your heart] intact you must give it to no one, not even an animal. Wrap it carefully round with hobbies and little luxuries; avoid all entanglements. Lock it up safe in the casket or coffin of your selfishness. But in that casket, safe, dark, motionless, airless, it will change. It will not be broken; it will become unbreakable, impenetrable, irredeemable.
Crossing boundaries can expand our world in more ways than one. During a period when he was searching for answers, the spiritual father of the Joseph House, Charles de Foucauld (1858-1916), made a trek deep into the Sahara desert. He later wrote about his impressions:
Islam really shook me to the core. The sight of such faith, of these people living in the continual presence of God, made me glimpse something greater, truer, than worldly concerns. I started studying Islam, then the Bible.
If only we could inspire one another this way all the time. Each encounter with the "other" can be a gift. There is so much to learn, so much to gain, as we journey together to the place prepared for everyone, the place Jesus called "My Father's house." (John 14:2)
————————————————-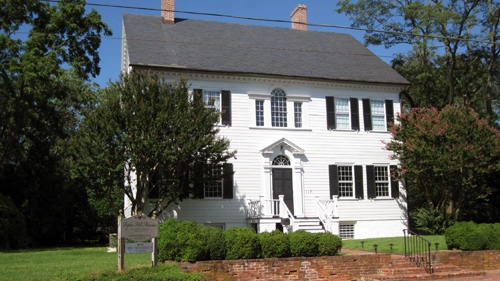 Poplar Hill Mansion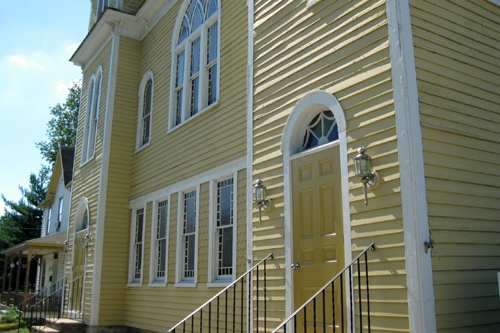 Chipman Cultural Center