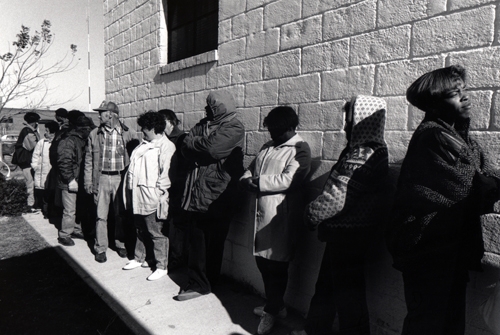 The mission of the Joseph House is to work for social justice, stabilize family life, and help the poor in their needs, whatever they may be.
Each person we assist is different. Each person has a particular story and unique circumstances. Sometimes when "the poor" are discussed, such as in public debates, they are considered as if they belong to one anonymous, faceless group. But anyone who has spent time in direct human services to people in need understands that this is not true.
Rev. Larry Snyder, the former president of Catholic Charities USA, makes an excellent observation of this point in his book, Think and Act Anew: How Poverty in America Affects Us All and What We Can Do about It. Here is what he wrote:
Not All Poor People Are Equal

It is easy to think of the poor as a homogenous, monolithic bloc with an unending thirst for public assistance. Nothing could be further from the truth. But that's how our government is structured to address poverty and thus the way government defines poverty.

We must not forget that these are individual human beings, each with hopes and dreams. They can, however, be grouped into several categories defined by their life experience, rather than solely by their economic status.

1). People who need help but lack the skills and abilities necessary to succeed in the work world—possibly because of a lack of education, experience, and cultural and social skills. These are often the inter-generational poor.

2). People who need help but have a limited ability to care for themselves because they are sick or have physical or mental limitations that make it difficult or impossible to provide for their basic needs. Children and the elderly are likely to fall into this category.

3). People with skills and experience but who still need help, possibly because they are limited by their circumstances, such as the current economic downturn with its foreclosures and millions of lost jobs. This could include the many thousands of underemployed working well below their skill levels.
People who are poor are not equal in their needs. They need services that listen and respond to them as individuals.
They are equal in human dignity. In fact, they are the ones promised the Kingdom of Heaven (Luke 6:20). Our service to them is a privilege.
Image: archival photograph from the Joseph House Crisis Center.