Dear Friends of Joseph House:
January is a hopeful time. We open a new calendar and all the empty spaces are there waiting to be filled in. The year is fresh and each day a new possibility. Maybe this is the year we will keep our resolutions.
January is also the middle of the cold and flu season, which can put a damper on our outlook. Coughs and sniffles are heard throughout our Crisis Center. Although it's never fun for anyone to be sick, we must never forget that it is much worse for people who are homeless and/or living with very low incomes.
The link between poverty and illness is close and clear and they trade off between cause and effect: serious illness can lead to poverty, and poverty exacerbates existing health conditions.
For the homeless in particular, health issues are a major concern. The organization Health Care for the Homeless has compiled some devastating statistics. Men and women who are homeless are:
three to four times more likely to die prematurely
twice as likely to have a heart attack or stroke
three times more likely to die of heart disease if they are between 25 and 44 years old
At least 25% of people experiencing homelessness have a serious mental illness, such as schizophrenia, bipolar disorder, post-traumatic stress disorder or major depression. A majority of these individuals also have an addiction.
What is perhaps most shocking? The life expectancy of a person experiencing homelessness is just 48 years.
Being homeless puts a person at high risk for just about all health problems. People who are homeless generally experience higher exposure to infection and violence. They have little control over nutrition and personal hygiene. Sleep deprivation can also be debilitating.
If a person is sick, being homeless makes him or her sicker.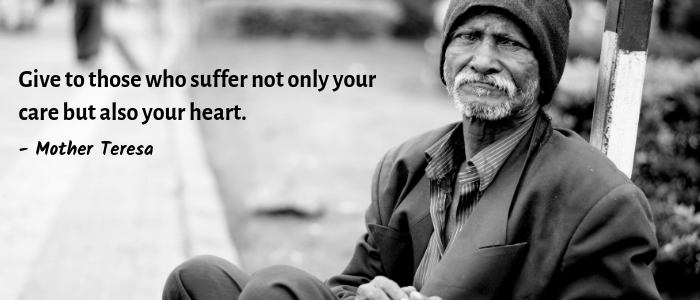 Our experience working with the homeless in our Hospitality Room backs up these figures and conclusions. In fact, it's rare that we meet someone who isn't struggling with at least one health concern. You'd probably be surprised at the number of heart attack and stroke survivors who are living on the street. We are. They come to us for food, a hot shower, and clean clothes. They can count on us to be a friendly, welcoming place.
We also welcome men and women who did manual labor and now their bodies have given out: their backs, shoulders, and knees can no longer do the work needed to earn a paycheck. And then there are those who are subject to a special kind of misunderstanding and prejudice: the ones coping with mental illness. In our Hospitality Room, they are accepted, respected, and given a safe haven.
There is so much to do in caring for people. We are grateful for your support which enables us to be there for those who feel unloved and alone. For the homeless, as it is for everyone, the future is a great unknown. But we do know God is already there, and that is sufficient for today.
The National Health Care for the Homeless Council makes an excellent point that bears repeating: Housing is health care. It is simple and obvious and so it gets overlooked. Having a place to live is at the foundation of living a healthy life. That is why our Financial Assistance program at the Crisis Center does a lot to help individuals and families obtain housing and hold onto it.
Joanna, for example, was in desperate need of rental assistance. She is 60 years old, lives alone, and is disabled. She had surgery almost a year ago and then was in a nursing home for eight months. Joanna is still confined to a wheelchair and doesn't know if this is permanent. The rent takes a big chunk of her monthly disability income of $675. She is allotted only $45 per month in Food Stamps, so she must spend money from her check for groceries. She also has a phone bill and needs to use a taxi sometimes. Money gets tight really fast.
Joanna was going to be evicted because of past-due rent payments totaling $400. She had $150 to her name. Fortunately, the Joseph House was able to pay the remaining balance of $250 to the landlord.
Tamar, also age 60, fell on hard times after her husband died. She had to give up the trailer that was their home. Homeless, she didn't know where to go or what to do. She started living in motels, but that was costly and her money was running out.
Recently, Tamar was hospitalized for a brief period. A social worker on staff learned about Tamar's lack of housing and helped her find a place to live. After being discharged, Tamar came to the Joseph House and we agreed to pay $100 toward the apartment's security deposit. Since it wasn't going to be ready for a few days, we also paid $156 so Tamar could spend two nights in a motel.
Remember: Housing is health care, and the discussion of health care in this country needs to contend with the growing shortage of affordable housing.
Thank you for your commitment to the Joseph House. Your loyal support means less suffering for the vulnerable members of our community. We are grateful, and so are they.
A New Year lies ahead: let's resolve to be people of peace, mercy, and gratitude. Let's make our world shine a little brighter with love and bless each day with acts of kindness. As the year unfolds please know that you are always in our prayers.
Your Little Sisters of Jesus and Mary
---
We depend on your support to fund our outreach to the homeless and other people in need: Donate Online
We would like to pray for your special intentions: Contact Form