Dear Friends of Joseph House:
A marvel of modern life is that we can go to the grocery store any time of year and find a wide selection of produce. Even when it is still cold outside, the market bins are filled with bananas, grapes, lettuce, avocados, tomatoes, carrots…you name it.
Another marvel of modern life is that we never have to see the hands that pick these fruits of the earth. We never have to give them any consideration at all. Did the workers receive a fair wage? Who knows, what counts is the sale price.
The same is true for the clothes we wear. They could have been made by the nimble fingers of a twelve-year-old in a sweatshop, but we don't have to concern ourselves with that. In fact, we surround ourselves with things and live in manufactured habitats, but we never have to think about where all this stuff comes from—or where it all goes when we're finished with it, for that matter. We just pick it up from the store and then drop it in the trash.
"Most people are now fed, clothed, and sheltered from sources—in nature and in the work of other people—toward which they feel no gratitude and exercise no responsibility," says Wendell Berry, a poet, essayist, and farmer. According to Berry, our industrialized society has two goals: to keep people in a state of helplessness (we have to buy everything we need) and ignorance (the seduction of consumerism hides the use of exploited labor and the reckless disregard of creation). This is what fuels our disjointed, fractured, stratified world of non-stop consumption.
Reflecting on this brought to mind a story in the Gospel of Luke. In the parable of the Rich Man and Lazarus (Luke 16: 19-31), the rich man is dressed in fine clothes and dines sumptuously while the beggar Lazarus slowly starves to death. Brought low by his destitution, Lazarus would have gladly eaten the scraps that fell from the rich man's table, but he's denied even that. After they both die, Lazarus is welcomed into the arms of Abraham. The rich man, however, goes to a place of torment.
Is this because in life the rich man displayed animosity toward Lazarus? No, the rich man simply failed to notice him, even though Lazarus was right there outside his door. Wrapped up in his own pleasure, the rich man was indifferent to another's suffering, which is the opposite of love.
It's distressing to realize that our modern way of life is built upon this same type of indifference.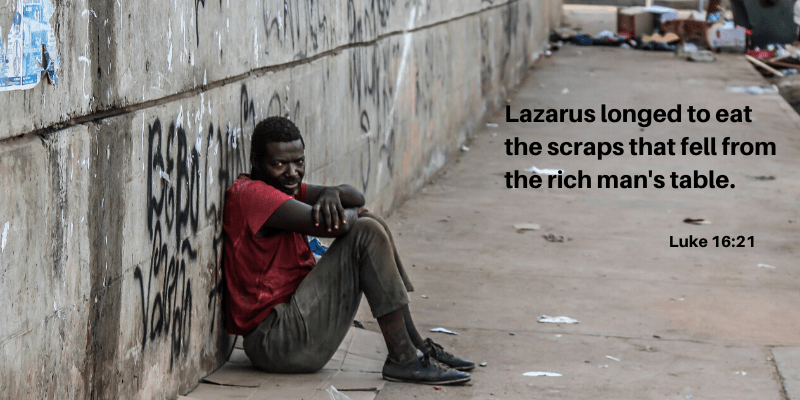 Although that may be the way of the world, we can choose to live differently. Our participation in modern economic life is a moral issue that involves everyone since we all buy things or use things that someone else bought. What can we do? We can question our spending habits and make informed decisions about where our money goes. We can be good stewards of what we purchase and reuse and recycle whatever is possible (and please remember: unless something is 100% biodegradable and it gets composted, it ultimately ends up in the landfill). We can make the needs of the poor a priority at the voting booth. Even if what we do seems small, over time little things have a cumulative effect.
The people who toil at the bottom of our service economy, who work in the fields and factories, who unload trucks, stock shelves, and mop floors, are not nameless cogs in a great machine. Their work supports our lives in countless ways. They deserve, not our scraps, but our respect, recognition, livable wages, and safe workplaces. That is why our charity must always go hand-in-hand with justice.

Signs of hope are everywhere. Your support, which keeps the Joseph House in operation, is one we see every day. The marginalized and downtrodden thank you, and so do we.
Gabby, 28, has five children, including a newborn. Her husband is in jail awaiting a court date. Gabby was ordered by her doctor to stay at home for several weeks and not work (and by that we mean her paid employment). Unfortunately, Gabby doesn't have any paid maternity leave, and this, coupled with her husband's arrest and loss of income, put the family's safety in danger. The Joseph House contributed $200 toward their housing costs so they would not lose their home.
Amanda, 40, is another working mother. She has four children, and she is very proud of how well they do in school. The house Amanda rents had problematic plumbing and sewer drainage. The landlord fixed everything, but he added the costs to the rent. Amanda fell behind and received an eviction notice. We paid $225 to halt the proceedings.
Irene, 72, was living with her sister until her sister had to enter a nursing home. Trying to make ends meet on her own, Irene has started cleaning houses for about $300 per month. She found a less expensive place to live, but needed to pay a $590 security deposit. We contributed $300 toward the cost.
Rosa, 41, had to leave her job at a chicken plant because of her heart trouble—her doctor ordered her to do so. After looking for work Rosa found a job as a cashier in a fast-food restaurant. The pay is just above minimum wage and she works just less than full-time. Paying her rent is harder than ever. When Rosa fell behind and received an eviction notice, we sent $200 to the landlord.
Troy, 30, is married and has three children. Two years ago, Troy was in the Army and deployed overseas. He saw a good friend get killed right in front of his eyes. Troy has been having a difficult time adjusting to civilian life and has not been able to work. His wife recently lost her job when the place where she worked went out of business. This struggling family needed help paying their water bill. The Joseph House contributed $245 and one of our volunteers added $45 on the spot.
Brooke, 25, is legally blind. She is pregnant and has two other children. The father has abandoned the family. If Brooke didn't have subsidized housing, she and her children would be homeless. She is trying to cope with her situation and needed help paying her electric bill. If the power got shut off her housing subsidy would be in jeopardy. We paid $220 toward the amount due.
We live in a world of "globalized indifference," as Pope Francis has said. It's easy to become complacent in our bubbles of comfort and habit. Let us dare to do something new to show our love for the poor and exploited. We each have different circumstances: if you're not sure of what to do, ask God for help. God will answer that prayer.
And did you know? This year there are two reasons to celebrate on the 19th: it's the Feast of St. Joseph and also the first day of Spring. May God bless you!
Your Little Sisters of Jesus and Mary
---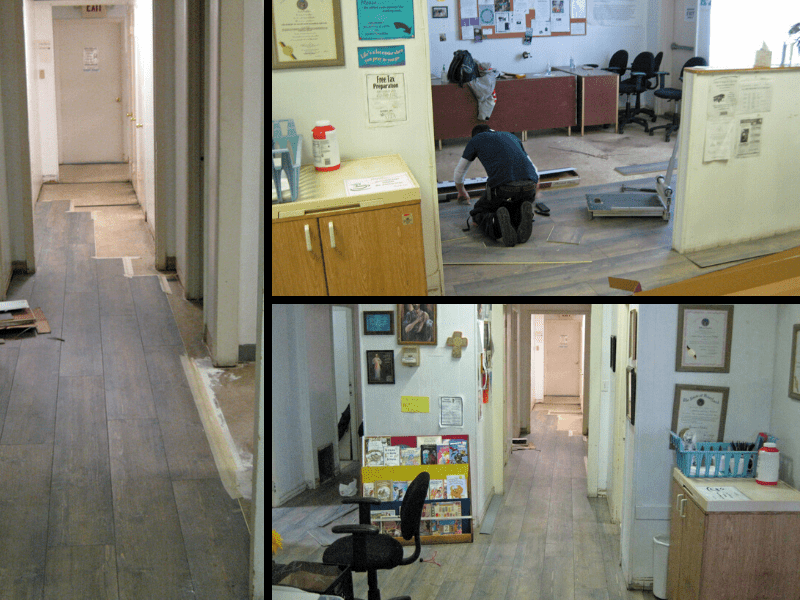 We are overjoyed that Divine Providence is allowing us to do some much needed renovation and maintenance work at the Joseph House Crisis Center and the Joseph House Workshop.
After seeing years of heavy foot traffic, the floors in the Crisis Center are being replaced and new carpeting is being installed in the supervisor's office. The director's office in an adjacent trailer is also being carpeted, and the rusty air vents and water-damaged ceiling tiles are being replaced with new and clean ones.
Across the parking lot at the Workshop, an unused space is being transformed into an art room with new flooring and individual workstations for the residents. In addition, the living room is getting a new carpet and a fresh coat of paint is being applied throughout the building. It's been almost 15 years since the Workshop opened. That's hard to believe!
We are so grateful for the kind and generous souls who are making this possible.
---
If you would like to help us in our mission to the poor, you can learn how here: Donate.
It will be our joy to pray for your special intentions. Please send us your prayer requests: Contact Form.