Dear Friends of Joseph House:
A year ago the pandemic really began to tighten its grip on all of us. Quarantines, lockdowns, and face masks became part of life. There was a long road ahead, but thanks be to God we have made it to this point. Every day has been a surrender to the mercy of God, which is without end. A few of us Little Sisters have been able to get vaccinated. We hope and pray that you are able to do what you need to do to stay healthy. Only together can we bring the spread of this virus under control.
This is true across the board: only together can we do anything about any of the problems facing our world. Our troubled times call into focus the words of Christ in the Gospel of John: "I give you a new commandment: love one another." As Dorothy Day remarked, this is a commandment, not a counsel.
From your own life experience, you know that love is not always a feeling of liking someone. Love is more about our behavior and how we treat others. For inspiration, we can turn to the thirteenth chapter of First Corinthians. It's a shot in the arm we all need—and no appointments are required. "Love is patient, love is kind…it is not rude." A meditative reading of the whole chapter is recommended (it's not very long). There is no greater way to make a positive contribution to the world than deciding to be a loving person.
Dorothy has more wisdom for us. She wrote about the necessity of "getting on with the business of living," despite the catastrophes that befall us. The wounded need to be cared for and the hungry need to be fed. "It is walking in the steps of Jesus when He fed the multitude on the hills, and when He prepared the fire and the fish on the shore. He told us to do it. He did it Himself."
We carry on this sacred work at the Joseph House. It is ground-level work. These difficult times have thrown a harsh light on the inequalities in society. It's evident that not everyone has access to the same resources and support systems. Your contribution to our mission helps to feed and shelter families in need. Our mission is simply about loving our neighbor—a love based on our common humanity as individuals created in the image of God.
Lance, age 60, was in a very bad situation. He lives alone in a one-room apartment, sharing a kitchen and bathroom with other tenants (the kitchen, always a mess, has a broken stove). With no furniture in his room, Lance was sleeping on the floor at night. A few weeks ago, he fell off a ladder and injured his back. He is still in a lot of pain, but unfortunately his medication was stolen while he was washing up in the bathroom.
Lance came to the Joseph House Crisis Center the day before he was scheduled to be evicted. Our Director became very concerned about Lance's welfare and made a home visit. Sleeping on a cold, hard floor is no good for anyone, especially someone with a back injury. An air mattress was purchased immediately to give Lance a comfortable place to rest. Our Director also bought two living room chairs at the Habitat ReStore and arranged to have them delivered.
We then paid the rent due ($255) and supplied Lance with bags of groceries. He had eaten nothing in the past three days except a bag of potato chips. Lance needs to find a better place to live, and we are assisting him with that, too. Although he is unable to work, he will receive an SSI check. Lance has an autistic son who likes to visit him. They value their time together, and hopefully in the future Lance will welcome his son in a home that is decent and safe.
Shellie, 56, was also stuck in a deplorable living situation, but then her name reached the top of the list for subsidized housing. It meant the chance to move into a relatively new apartment. Shellie was excited, but a deposit was required, and her job in food service did not pay enough to cover the cost. Since the wait for subsidized housing is measured in years, we contributed $300 so Shellie would not miss this opportunity. She will finally be able to live in a place that isn't freezing during the winter.
Vernon, 66, was working until he caught COVID-19. He spent two months in the hospital. The recovery has been long, but he's gradually getting stronger. Right now he is worried about his bills because he hasn't been able to find a new job. We paid $350 toward his water bill so his service would not be disconnected.
Maria, 27, was working full-time as a nursing assistant until she was diagnosed with cancer. The chemotherapy is taking its toll on her energy level. She can only work about half of her usual hours. Maria lives with her son and needed help paying her rent. We sent $400 to her landlord. Despite all of her trials, Maria is maintaining a positive attitude. She told us she will keep moving forward.
Aretha, 25, was working two jobs to support herself and her young son (the father is incarcerated). After she lost one of her jobs because of the pandemic, she could no longer afford child care for her son, and that meant she wouldn't be able to work at her second job. Aretha is looking for other child care options, but in the meantime she fell behind in her rent. We paid $300 to stop the eviction.
Trudie, 38, has two children and works for minimum wage at a fast-food restaurant. Her hours have been up and down during the pandemic. We helped with $200 toward her past-due gas bill.
Thank you for enabling us to help these people and many others. Never forget that even the smallest acts of love create a ripple effect, spreading their impact outward. . .
You can find out how to support our work here: Donate
Amanda Gorman was captivating as she recited her poem, "The Hill We Climb," at the Inauguration in January. There is one line we'd like to share: "Somehow we weathered and witnessed a nation that isn't broken, but simply unfinished." That is such a helpful perspective to have—not only for our country, but for other people and ourselves. Unfinished, not broken. There are possibilities for everyone.
The cold days of winter are coming to an end, and that fills us with HOPE. With grateful hearts, we remember you faithfully in our prayers.
Your Little Sisters of Jesus and Mary
---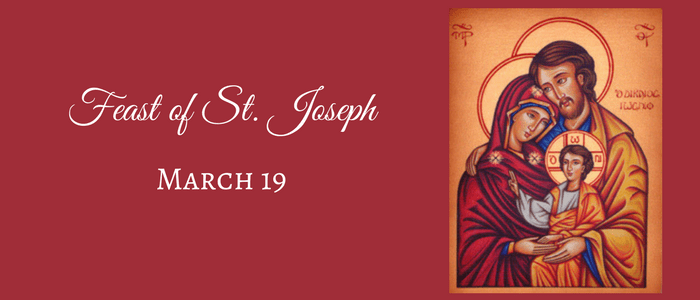 March 19 is the Feast of St. Joseph.
Pope Francis has declared 2021 to be the "Year of St. Joseph." Please read this blog post to learn more about it and for selections from Patris Corde, a personal meditation on St. Joseph by the Pope: The Year of St. Joseph.
---
Please use our Contact Form to send us your prayer requests. We are happy to lift up your needs to the Lord.