Dear Friends of Joseph House:
A lovely custom with many people when they gather for Thanksgiving Dinner is to take turns saying what they're thankful for. Expressing gratitude is good for the soul—and it's what the holiday is all about.
In our humble cubicles at the Joseph House Crisis Center, sitting around tiny desks with cups of coffee, we hear words of gratitude all the time. They come from people who've had their prayers answered and feel (maybe for the first time in a long while) a sense of hope. Sometimes people will leave us notes. Their words are sincere and straight from the heart. We'd like to share a few of them with you:
"I was blessed the first time I set foot in Joseph House. Thank you for everything you've done for me."
"Your staff was so courteous and friendly and so respectful. We are so grateful due to your loving help."
"My husband underwent surgery and was in terrible pain and missed several days of work. Our gas bill for heating had gotten out of control and we needed help. We are so grateful that you did not turn us away."
"Thank you for all of your help in trying to get me back on my feet. God's angels have been working overtime to help me!"
"I think this is a very warm and comfortable atmosphere here. The people are generous and considerate. It's just an outstanding facility."
"I am thankful for this place where I can get a shower and a smile and most of all a sense of worth, because they do what they do out of love of God's children."
Your support means so much to so many people! People who receive help from the Joseph House are quick to tell us how grateful they are, and so we need to tell you because you make it all possible.

God has richly blessed our nation. We have an abundance of food and material goods. For many, life is a banquet. But not everyone shares in the feast…people who work hard for low wages; people who are beset with health problems; people advanced in years who need help with day-to-day living. Our greatness as a nation is most evident in how we care for those who are least in the eyes of the world. The best way to express gratitude for the blessings we enjoy is to share them with those in need. Won't you please help us to do that?
Your generosity assists people like Jerome, age 53. He is disabled and lives on a monthly check of $640. His rent is $500. The electricity in Jerome's apartment (part of a subdivided house) was going to be turned off because he was behind in paying the bill. The Joseph House sent in $175 to prevent that from happening.
Annabelle, 29, also needed help with her electric bill. She is a single mother of four children. Working at a fast-food restaurant, her day starts at 3:30am. She earns $800 per month. We were able to help with $180.
The things we take for granted are another person's dream!
TURKEYS AND TOYS: To make the holiday season brighter for the less fortunate, we need donations of food and toys, which can be delivered to our convent at 411 North Poplar Hill Avenue in Salisbury.
Frozen turkeys and chickens for Thanksgiving are needed by November 24.
Christmas toys and gifts (new and unwrapped) for children up to the age of 14 are needed by December 15. We prefer gifts that do not require batteries. Also, we cannot accept toy guns.
Please contact us if you have any questions: Contact Form
ONLINE SHOPPING: If you shop on Amazon, please consider starting with our Amazon Smile link:
smile.amazon.com/ch/52-0846802
Amazon will then donate to the Joseph House a small percentage of your purchase total.

RETURN OF THE MAGI: This year the Magi Fund presents "A Magical Christmas," a holiday concert to benefit the Joseph House and the Christian Shelter.
"A Magical Christmas" will feature the combined talents of renowned National Christian Choir pianist Michael Faircloth, Symphony 21's composer and artistic director Daniel Bowen, and nationally recognized vocalist Diane King Susek. Michael, Daniel and Diane are teaming up to produce an exciting holiday celebration with a definite twist.
This will be a unique, professionally produced extravaganza of holiday music, sights and sounds that will thrill your heart, set the tone for your Christmas holiday AND raise those much needed funds for the Joseph House and the Christian Shelter!
One performance only: Sunday, December 8 at 2pm.
Location: James M. Bennett High School, 300 E. College Avenue in Salisbury.
Tickets are $20 in advance ($25 at the door), available at First Shore Federal Savings and Loan (all locations) and The Country House on Main Street in Salisbury.
There is also an order form on the website: magifund.com
COMMUNITY NEWS: On October 21, during a ceremony in our chapel in Princess Anne, Maryland, Sr. Nicole Soder received the habit and began her time as a novice. Sr. Virginia Peckham also renewed her temporary vows for the fifth time.
These are graced moments for everyone in our community, and we are so thankful for both Sisters for responding to God's call. May God's blessing be upon them!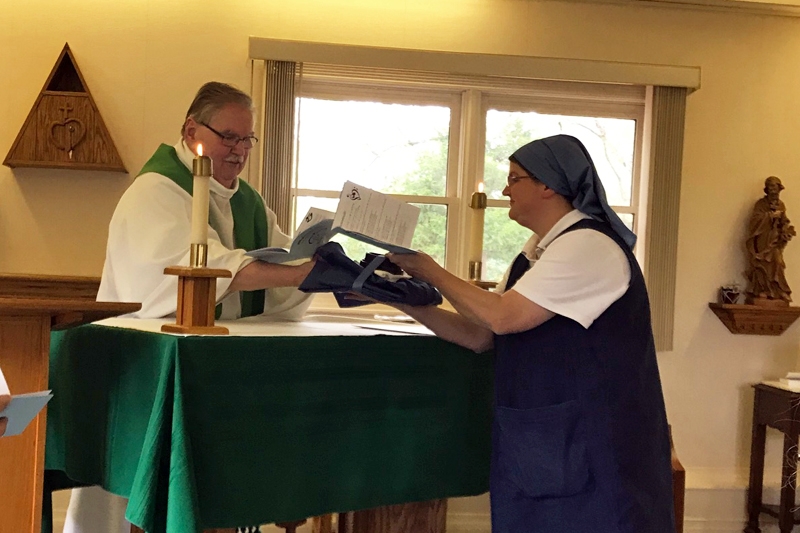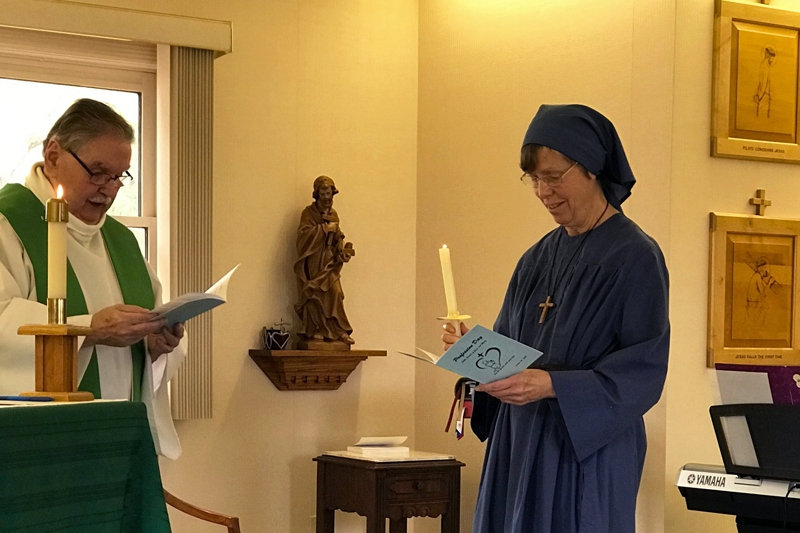 And we are very thankful for you, for being a friend of the Joseph House and the poor, and for all the ways you support us in our mission to help those in need. You are in our prayers every single day. A Happy and Blessed Thanksgiving to you and your loved ones!
Your Little Sisters of Jesus and Mary
---
During this season of gratitude, we will joyfully lift up in prayer your special intentions. Please send them to us: Contact Form
Would you like to join us in our mission of helping the less fortunate? Find out how at this link: Donate
---
"As it does every year, it all began at Thanksgiving. The sheer weight of the advertising pages that arrived with the local newspapers was the first indication of how relentless corporate America is in colonizing our days. Thanksgiving, particularly, is a day that seems to be a threat to consumerism…"
It's easy to get "consumed by consumerism." This article is an important reminder about holiday shopping:
https://www.americamagazine.org/issue/555/ethics-notebook/consuming-christmas