This reflection was written by Sr. Mary Elizabeth Gintling, our founder, in 1979:
When we prepare for the mystery of Christmas, what are our days of preparation filled with? Most of us have thousands of things to do and for many it is the busiest time of the year. What we really should be doing is taking a little "quiet" time in anticipation of Him for whom we are waiting. With all the distractions and problems that present themselves during the course of the day we thought we'd offer a few reflections.
Around this time we usually consider what gift we could give someone to show our love and our gratitude. When you come right down to it, it is the giving of one's time and self that is the most meaningful, the most beautiful and appreciated.
When I put myself out and do for someone else–instead of, what shall I get for him or her, or which wrapping paper or ribbon should I use to enhance my gift–then I can really experience how Our Lady felt when she gave her "Yes" to God. Can you imagine the struggles Joseph experienced when traveling during the most inconvenient time and then having to put up for the night in a miserable stable and with his wife due to deliver at any moment? How poor can you get? Mary experienced the pain and discomfort of bearing a child from the beginning, and His birth was her greatest gift to God, His Father. Joseph's quiet and uncomplaining acceptance of a situation which he did not quite understand was indeed his gift to God.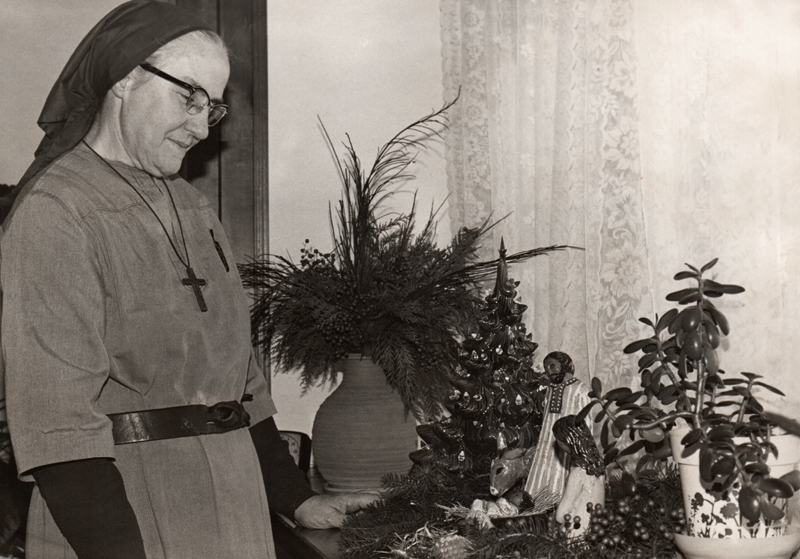 Jesus is still being born each day. He is born in our hearts over and over, so that we can be the gift that we should be to God, His Father. While we are waiting for Him to come, He is really waiting for us to respond by letting Him into our hearts and our lives. Are we ready to welcome Him? Can you not see Him in the ordinary, everyday events, in those who plead for assistance, or our love, or just our caring?
It is Christ that we see in those whose cries we answer, and only through your kind and constant assistance have we been able to do this. May the Lord Jesus bless you and your loved ones at Christmas and all through the year.
---
"Whatever you did for the least of my brothers and sisters, you did for me" (Matthew 25:40). We were not there 2,000 years ago in Bethlehem to offer assistance to the Christ Child, but we can still do something today. If you would like to join the Joseph House in our mission to help the less fortunate, you can learn how at this link: Donate.
May your heart be filled with the hope and joy of this holy season.