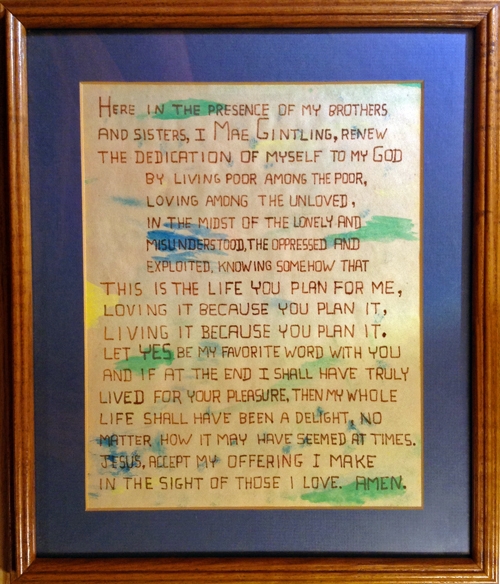 Here is a story from our founder, Sr. Mary Elizabeth Gintling, about her discernment to leave the Little Sisters of the Poor and begin a new ministry with the poor. Pictured above is the promise she professed to God after starting the Joseph House as a layperson.
"I felt that if God asked me to go in [the Little Sisters of the Poor], I left the other things I was doing to go, so if He asked me to come out I should come out. I was 50 years old when I came to that conclusion [in 1964]. And I had been in there for about 21 years.
"I had this confessor who was of a French order also so he was kind of the same culture mind as I was trying to escape. And I went to him and said that I really feel God is calling me to leave here and to go and work with the poor where they are, and not have them come in and only be able to handle this small number because we had to have them come in to help them. And he said, 'I don't want to hear about it, I don't have much time today to hear confessions. I just don't want to hear about it.' So I thought I guess God doesn't want to hear about it either.
"I waited for a while. In fact, I waited for almost five years. I was so troubled by it, I was so pushed by some force to leave there and start something myself. I had no idea how to do it or when to do it or how I was going to go about it. But I had this impulse that I couldn't seem to overcome and I got tired of battling with it. So I said to the Lord, 'Look, I'll do anything You want me to do but I have to know that You want me to do it and I want You to at least give me the assurance that this is something You want and not just something that I dreamed of.' So I kind of put Him to the test.
"I went to confession to the same priest who told me he didn't want to hear about it, and that gave me a kind of safety because I said to myself I am not looking up someone who agrees with me, I am not going outside of here to find someone who I think will find these nuns old-fashioned and agree that I should go. I am going to the same guy who told me he doesn't want to hear about it. I went back to Father and I said to him, 'I talked to you about five years ago about the fact that I think God is calling me to leave here and to go work with the poor differently.'
"And before I went to him I went up to the altar rail and I said to the Lord, 'Look I have to settle this, I can't stay here unsettled like this. I am going to give You 5 minutes to get him ready for me and to give him the answer that You want him to have for me and then I am going in there and I am going to ask him does he think I should do this or doesn't he. And whatever he tells me to do I am going to do and I don't want to hear from You again.' [laughter]
"And so I waited and then I went back to confession and I said to him that I had been there 5 years before and he said, 'Yes, I remember that.'
"And I said, 'I really feel God is calling me to leave and to start something that would take care of the poor where they are. Because you could do a lot more for them, and it is not necessary for them to give up what they have.'
"And he said to me, 'Well I think God is calling you to that.'
"And I thought, 'Now why did he have to say that? Now I have to.' [laughter]
"And I am thinking of all of this stuff, 'Now what do I do? What do I do?'"
———————————————————-
Always say yes to God and He will fill you with His happiness.

– John Paul II