A number of years ago, a young man went to work in a limestone quarry. He worked all day outdoors in all types of weather. He broke up stone and carried buckets of lime on a wooden yoke across his shoulders. His hands cracked from the labor and bitter cold of the elements. He was a smart man, capable of many things, but harsh circumstances left him few options. He later recalled this time as one of hardship and monotony, the work as alienating and frustrating.
The man persevered, the times changed, and with the grace of God he went on to greater things. From his experiences he learned the value of meaningful work. He would later write:
Work is a good thing for man. It corresponds to man's dignity, expresses this dignity and increases it. Work is a good thing for his humanity because through work man not only transforms nature, adapting it to his own needs, but also achieves fulfillment as a human being, and indeed in a sense becomes 'more a human being.'
These words appeared in the encyclical "On Human Work" written by Pope John Paul II. The document expresses how the Church sees work as fundamentally important to living a fully human life. When a person works, the work in turn "works" on the person. Work shapes us, it forms us, it builds character. Work can also destroy us. Work can be used to degrade and oppress people. The type of work we do, or the lack of work at all, can leave a gaping hole in our humanity. Then we do not experience the dignity of people created in the image and likeness of God. The Pope saw this himself when he became a working man during the Nazi occupation of his native Poland.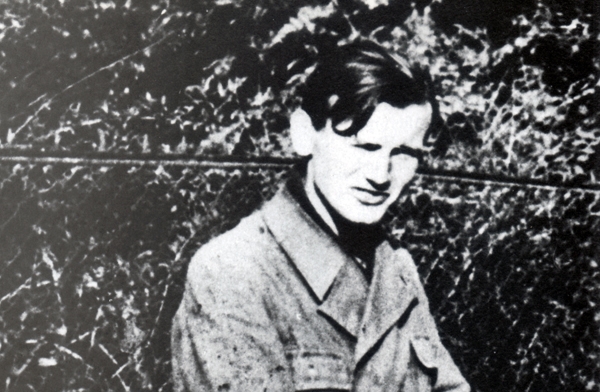 (Pope John Paul II during his time working in a quarry, 1940's.)
Work is serious business. Ideally work should be an invigorating challenge. We are lucky if it seems like play. Unfortunately for many people, work is a "problem." Getting trained for work, getting transportation to work, finding work that provides security, work that pays the bills, work that realizes our potential, work that is a blessing to us and to others, work that supports our dignity — these are serious problems for many people today.
For help with these problems, we look to our patron, St. Joseph. God chose Joseph to be a father to Jesus for a reason. God knew that in his workshop, Joseph would not only teach Jesus how to be a carpenter, but how to be a human being. Working side by side with Joseph during the long years of His hidden life, Jesus learned the life of virtue.
Jesus blessed the working life through the Incarnation. Work can be redeeming. It can bring healing and growth to a person's life.
May 1 is the Feast of St. Joseph the Worker. We pray:
Good Saint Joseph, with your abilities you supported your family and served your community. In your daily work you made more than tables and chairs; you crafted virtue, and forged your soul. Help me to make my work a means of holiness, too.
Saint Joseph, carpenter of Nazareth, come to the aid of those who are unemployed and those burdened with oppressive work.
Amen.