Dear Friends of Joseph House:
Money is a curious thing. It can buy books but not intelligence; finery but not beauty; entertainment but not happiness; luxuries but not culture; a house but not a home.
Money can give us what we want, but not always what we need. It is our servant, not our master.
Jesus advised us to ask for our daily bread (Mt 6:11). He also affirmed that we do not live by bread alone: our fulfillment is of a higher order (Mt 4:4). As Sr. Mary Elizabeth once said, "Some days we have much, and many days we have little. I tell the sisters, 'much is better, but, much or little, we always have God!'"
We ask money from you to help those who have little. The people we serve lack the necessities required to live a basic, decent life. It is a matter of alleviating suffering and upholding human dignity. We try to keep money in its proper place and allow our benefactors to do the same. Money can be used for good or evil: it is our choice.
Money is called currency if it's "in circulation." It has power when it moves, and your donations supply the power to our operation. We can assist people only because of you. Thank you for everything you do for the Joseph House. Having a heart open to people in need is a real treasure.
Like many people who come to the Joseph House, Armand was not eligible for help anywhere else. He is 58, homebound, and a dialysis patient. A social worker came to our Crisis Center on his behalf. After paying 72% of his disability income on rent, Armand has about $200 left over each month. This needs to cover the electric, water, food, and miscellaneous household items. It's never enough. Armand has nothing extra in his life like cable TV. We paid $200 toward his past-due electric bill.
Celine, 32, is a single mother with two children. She was working a temp job but then was let go by the employer. Living paycheck-to-paycheck, Celine quickly ran into trouble paying her bills, and the water was shut off. She went to the Department of Social Services and learned it does not assist with water bills. The next stop was the Joseph House, and since we are not bound by red tape and we understand that running water is essential, we paid $170 toward Celine's bill.
Elda is 60 and had to stop working because of arthritis in her back. She can barely walk. At the moment, her only income is $185 a month in Temporary Disability. Elda has minimal bills, but $185 doesn't go very far, to say the least. We sent $200 to the electric company so Elda would not lose power in her home.
Janet, 46, is separated from her husband. She recently had to have one of her legs amputated. Unable to work during her recovery, she has no income. We sent $175 in rent money to her landlord.
Christine, 56, recently obtained custody of two of her grandchildren. She is trying to get a third one because the mother is abusive. Family relationships have fractured and Christine wants to do what is best for the children. To proceed with the custody case Christine needs to have a larger apartment to house the additional child. Her current income is $1,059 per month and she pays $850 in rent. She found another apartment but needed to pay a security deposit. Her lack of spare funds made that impossible. Determined to provide all of her grandchildren with a loving and healthy upbringing, Christine came to the Joseph House. We contributed $210 toward the deposit.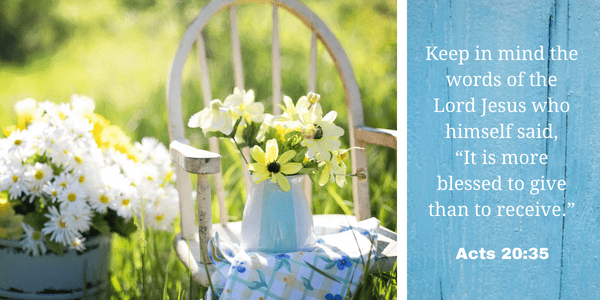 ---
Joseph House Workshop News
Last year Sister Virginia's art class at the Joseph House Workshop took on the task of designing and creating a sign in mosaic tile for the Workshop entryway. Three new residents were up to the challenge. The sign was completed in April 2018, just as the class was ending. Here is the story from Sr. Virginia:
"Mosaics are manly," I said to Larry, Juan, and John, my art students at the Joseph House Workshop. "Glue and cement and breaking things with tools: What's not to like?"
As new residents of the Workshop, the three men were still in phase one, the initial three months during which they learn how to cook, clean and cooperate in a small community of men. They also do volunteer work and take an array of skill-building and inspirational classes, including my art class, which I hope provides a bit of comic relief from their very challenging schedule.
The goal of the Joseph House Workshop, a residential therapeutic program, is to help homeless men transition to stable, productive living. We know the goal has been reached when a resident completes the program and has a steady job and the means to live independently.
When Rudy, the assistant director, learned that I was going to give a class in mosaics, he suggested we make a sign for the Workshop to replace one that was falling apart. It was a handsome sign, lovingly and skillfully made by a previous resident, but unfortunately the material was not weatherproof.
I'm not sure what the men were thinking when they heard about the project, or what they said to each other in private, but in the class they were very good sports. As the weeks went by and we were still making preparations, I would anxiously try to assure the men that things were going to get more exciting. Larry would give me a deadpan look and say, "Sister-Virginia–I-am-very-excited-about-the-project-today." Juan often assured me that the class did indeed make him feel "manly."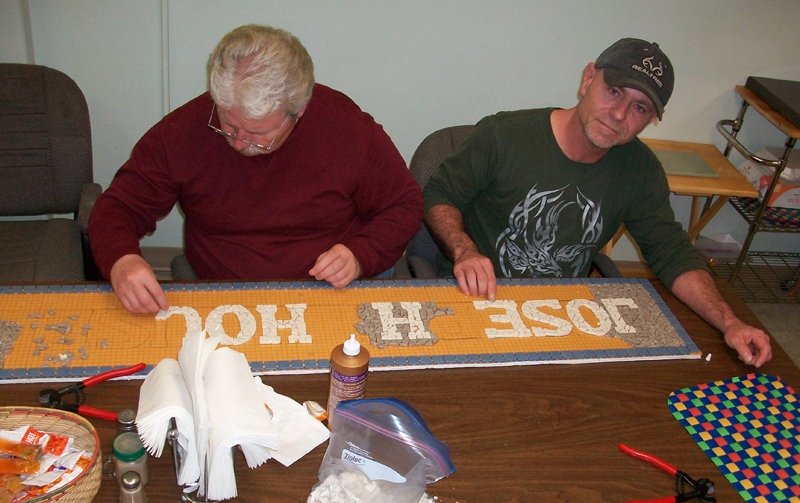 John was a bit more serious – maybe because he had the most experience – and he quietly kept the project on track and free of major blunders. In fact, John devoted many hours of his scarce free time to preparing hundreds of mosaic tiles, which needed to be broken up into a variety of sizes.
We also received help from experts in the community. Carla Lewis, a superb local mosaicist, encouraged us and offered good advice. Erin Kenny and Daniel Winn at Acme Ceramic Tile in Salisbury generously gave their time to help us select the proper materials, and they showed us techniques for producing a harmonious and pleasing design.
Fortunately, the cost of the materials – weatherproof backing board, ceramic tiles, glue and grout – was covered by an education grant that the Workshop receives annually.
As the class drew to an end, the sign was far from complete. I was resigned to handing over the unfinished project to the next cohort of men, due to begin class in the fall.
My students were now preparing to enter phase two – the period during which they find training and employment, with the ultimate goal of becoming stable and independent. I was working at the nearby Joseph House Crisis Center, when John came up to me and said, "Sister, I have to show you something." He led me across the parking lot to the Workshop entrance.
The sign was not only finished, it was framed and installed above the doors! John had worked day and night to lay all rest of the tiles, and he then enlisted another resident, Carl, to build the frame and help mount the sign, while swearing everyone involved to secrecy so he could surprise me. I was deeply moved and thrilled!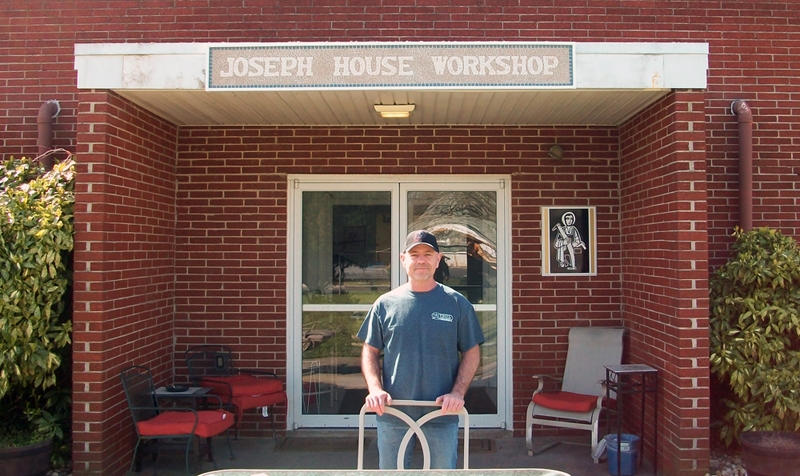 Rudy revealed to me later that John was initially quite unenthusiastic about the mosaic project. An experienced contractor, John said that he had always insisted on getting paid in full for his work. "But when the sign was finished and I saw the expression on Sister's face," he said, "it made it all worthwhile." He had experienced something profound: the joy of giving his time and talent without any thought of material gain.
The mosaic project was for me a tremendous blessing and privilege. After every class, I would feel elated. Working side-by-side with these men to create something that was handsome and useful, in such a venerable and ancient art form, felt like a tiny sharing in the timeless and blissful creativity of God.
---
There are many things we can do with our time and money. Few of them compare with making the world more hospitable for those who need a hand.
To all men celebrating Father's Day, we pray that God will bless you with an abundance of love. And may everyone enjoy a happy and restful summer.
Your Little Sisters of Jesus and Mary