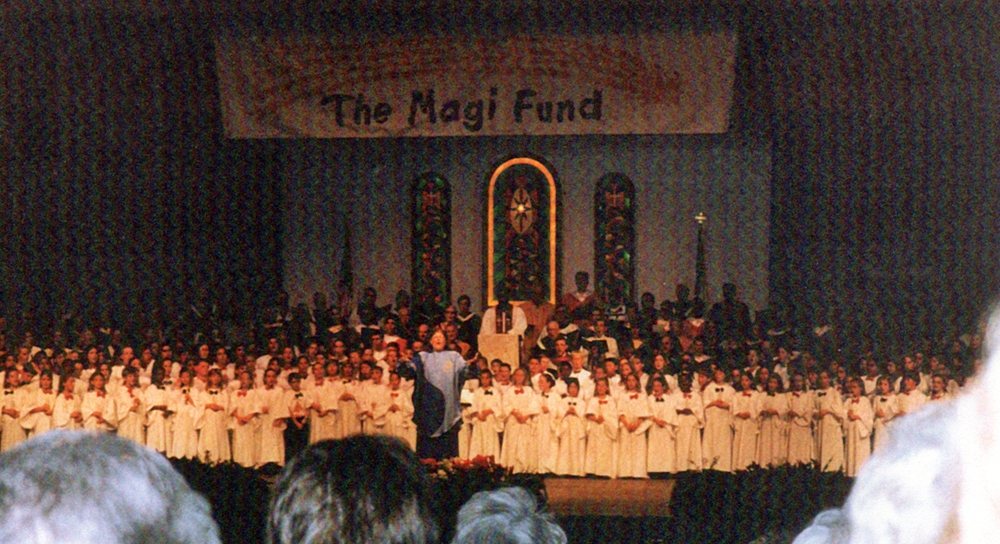 Since 1994, the Magi Choral Festival has delighted audiences in Salisbury each November with concerts that herald the holiday season. This year marks the 25th anniversary, although organizers have announced that the upcoming performances will be the last (November 17 and 18, 2018; visit www.magifund.com for tickets).
The concerts have been the primary fundraiser for the Magi Fund, an all-volunteer nonprofit dedicated solely to raising money for the Joseph House and the Christian Shelter. The Magi Fund was started by Bonnie Luna, a very dear friend of the Little Sisters. The inspiration came to her one Christmas Eve: "I realized the season was almost past and I never stopped to enjoy it. I cried out to the Lord and God spoke to my heart."
It really was a miraculous inspiration. Plans for the first concert developed, and it was so successful it became an annual event. Over the years, the Magi Choral Festival has grown phenomenally, thanks to Bonnie's tireless efforts and her ability to involve a breathtaking number of people.
The concerts feature literally hundreds of performers and require the help of countless volunteers. Corporate sponsors underwrite all expenses so the two designated charities receive every penny from ticket sales. The amount of money raised is always exceedingly generous.
A full year of planning and practice are needed to prepare for the concerts. It definitely shows: the quality of the music is outstanding and of the highest standard.
Words are inadequate to express our gratitude to Bonnie and her small army of goodwill ambassadors. Special thanks also go out to the music directors, the renowned National Christian Choir from Washington, D.C., the Magi Festival Orchestra, the Magi Festival Choir, the Magi Children's Choir, Symphony 21, and all the local and church ensembles that have participated. They created something beautiful for God and the poor.
We don't have space to list everyone, but we also wish to thank the Magi Fund Steering Committee, the Community Foundation of the Eastern Shore, and of course all of the patrons who purchased tickets. Our heartfelt gratitude lies with each person, organization, and corporate sponsor that made a contribution in some way throughout the past 25 years.
When the curtain falls on the last concert it will be sad, although we agree it's good to end on a high note, so to speak. The music will fade to a happy memory, but Bonnie has promised that the Magi Fund will continue to assist the Joseph House. She said before, "I don't take credit for any of this. This is a testament to what can happen when a group or individual just gives selflessly of their time and talents."
To that we say, "Amen."
---
Magi Grand Finale Performances
November 17 at 7pm & November 18 at 2pm
Wicomico High School Auditorium
www.magifund.com
---
Program from the first Magi Choral Festival in 1994: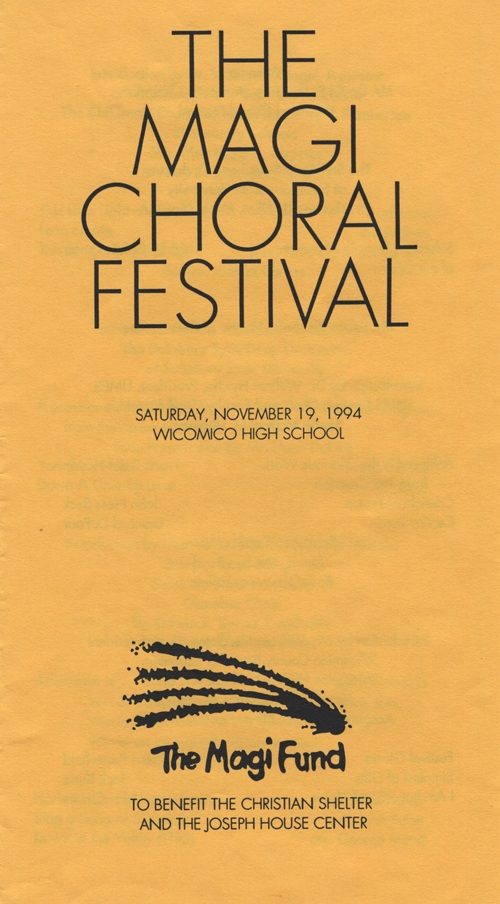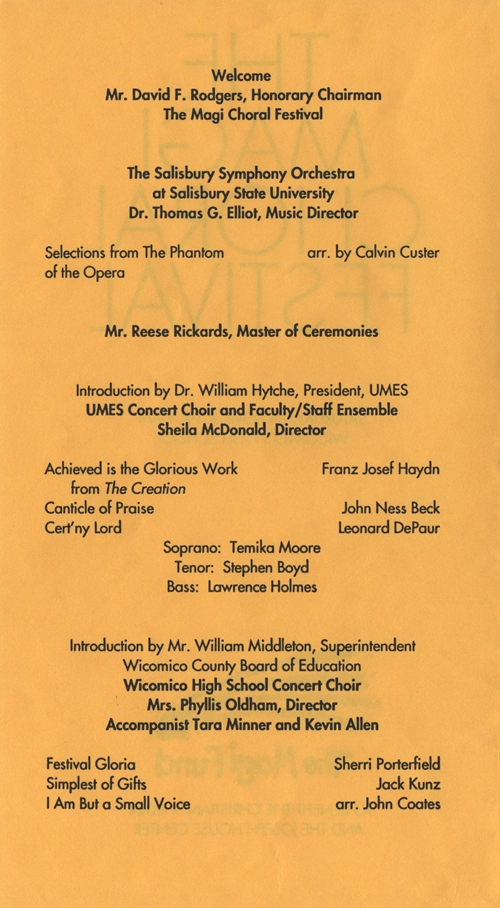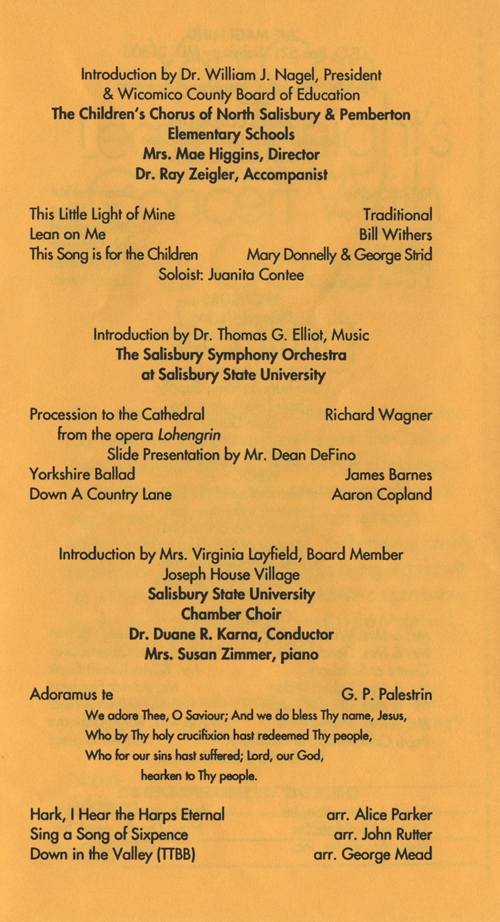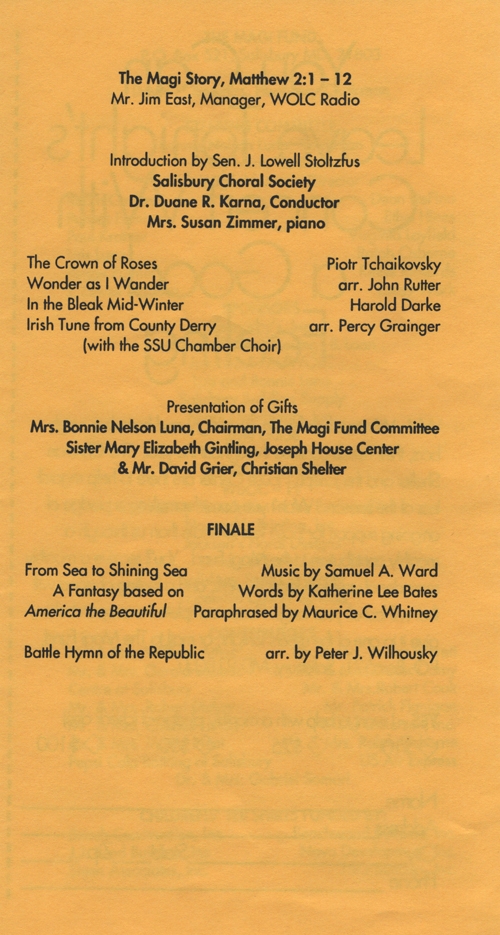 ---
A few newspaper photos about the Magi Choral Festival through the years: